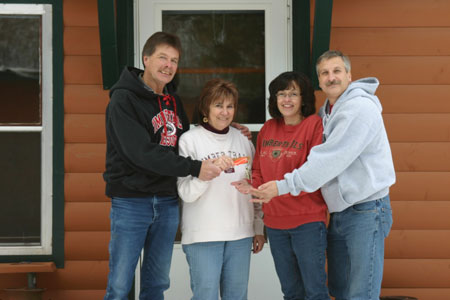 We are so excited to begin our journey with you! Having vacationed in northern Minnesota for over 15 years with our family it has always been Tom and Kathy's dream to own a resort.
Our journey to find the right resort has been long and hard. Over the last 16 months we have taken 12 trips up north and traveled over 15,000 until we found the perfect resort, Timber Trails.
We are originally from Massachusetts (right on the coast) and moved to Nebraska to pursue Tom's engineering career. We raised our two children Michael and Jennifer there. After our kids had moved away to college we took off to Colorado for five years for Tom's work. We have enjoyed our time spent in Colorado, but came to realize we were missing something in life and decided the timing was perfect to pursue our dream of owning and operating a resort in Northern Minnesota.
About Us
Tom: He has worked as a civil engineer for many years with previous experience in building construction. He has also enjoyed volunteering with the fire department, and working on cars with his son.
Kathy: Prior to moving to Colorado, she worked as a registered nurse specializing in pediatrics for over 25 years. She enjoys cake decorating, gardening, and volunteering at schools.
Our Children:
Michael (24) lives in Lincoln, NE and works at a GIS firm. He loves pets, planes and fast cars.
Jennifer (22) lives in Des Moines, IA and works at a web development company as a project manager. She is getting married April 28th to our future son-in-law Steven, they plan on staying in the Des Moines area and starting their family together.
Kathy's parents Tony and Dotty will also be joining us on this new adventure. Tony and Dotty enjoy Ballroom Dancing and staying active.
Dotty will be a great asset on the business end and Tony will be helping with the day-to-day resorting needs. You are sure to find him out and about ready to strike up a conversation. Warning: He is a big tease!
We are very excited to meet all of you and get to know you very soon! For more details, watch for our new website coming soon!