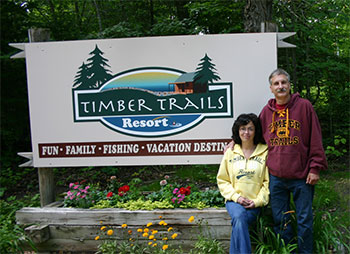 Welcome,
Let our family make your vacation memorable. Whether you want to play in the lake, enjoy the wildlife, reel in walleyes and northerns, gather with family and friends, or just chill out, our north woods haven is the perfect place. Our family lives here and we're inviting you to come for a visit.
At Timber Trails Resort, we offer four seasons of Minnesota's best fun and fishing on 18 acres of the beautiful Chippewa National Forest. We're right on the shore of scenic Boy Lake in the popular lakes area of northern Cass County. With 3,186 acres of water and more than 22 miles of mostly undeveloped shoreline, Boy Lake is the perfect destination for your fishing excursion or "up north getaway."
We want you to be able to enjoy your vacation your way, so we've paid special attention to creating an atmosphere where you can be as secluded or as gregarious as you want. Timber Trails Resort's 10 cozy cabins and 12 wooded campsites are nestled among the trees, so all guests have their own private area. But we also have the playground, beach, and lodge/store where people can gather, share experiences, and make new friends.
Vacationing in Minnesota's popular lakes area — with the towns of Longville, Remer, Walker, and Boy River close at hand — you'll never run out of fun ideas and activities. Every moment you'll be creating memories — and that's what it's all about. When you stay with us at Timber Trails Resort, you'll create lasting memories for your whole family.
Please come for a visit,
Kathy and Tom Marnik